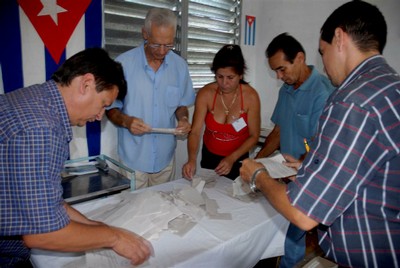 Ensuring electoral logistics and the preparation of the estimated 14,000 people in Sancti Spiritus who will be working during the upcoming elections on October 21st in the Cuban central province, are to be verified Sunday, when 1202 polling stations open at 7:00 am to run the Dynamic Drill.
As reported by Orelve Jacomino Ramos, president of the Provincial Electoral Commission, the whole system is to be activated that day: from the stations to the National Electoral Commission.
Some other key issues will be checked such as the effectiveness of the communications systems and the flow of all information, the state of the sites provided for this purpose, the existence of the polls and national symbols, among other essential details in this kind of voting.
From the early hours of Sunday morning transportation means and communications systems will be activated, as well as all provisions, so that any adverse situation keeping the elections from being successful can be anticipated.
The engagement between electoral authorities at all levels is one of the essential objectives of this test, which will mobilize all concerned except the voters and the pioneers who will guard the polls. Simultaneously, citizens continue to get acquainted with the information on the 1506 nominees in the province, whose photos and biographies are displayed in public places throughout Sancti Spiritus.