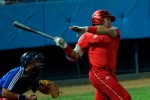 Sancti Spiritus baseball players trio, members of the Cuban preselection readying for the 2013 World Classic, is part of a 27 men group chosen to face Mexican professionals in the coming days.
According to a statement by Cuba's Baseball National Commission, third-baseman Yulieski Gourriel, outfielder Frederich Cepeda and hurler Ismel Jimenez are members of the national squad visiting Mexico.
Sources from the digital site Jit revealed the whole staff made of pitchers Alexander Rodriguez, Freddy Asiel Alvarez, Ismel Jimenez, Norberto Gonzalez, Yoannis Yera, Darien Nuñez, Carlos Juan Viera, Yander Guevara, Miguel Lahera and Felix Fuentes.
The roster is also composed of catchers Ariel Pestano and Yosvani Alarcon, and infielders Jose Dariel Abreu, Abreu Correa, Alexander Malleta, Yordanis Samon, Dayan Garcia, Jose Miguel Fernandez, Yulieski Gourriel, Michel Enriquez, Luis Yander La O, Yordan Manduley and Roberto Carlos Ramirez.
Outfields will be defended by Frederich Cepeda, Alfredo Despaigne, Guillermo Heredia, Yasmani Tomas and Ariel Sanchez.
The team is headed by Victor Mesa who is accompanied by Jorge Fuentes, in charge of the preparation, and some others assistants.
The Cuban team is to face on October 25th, 26th, and 27th, in Ciudad del Carmen, a squad from the Universidad Autonoma del Carmen reinforced with players from the Mexican Baseball League. The 28th they will play in Campeche vs. Los Piratas, and the 30th in Yucatan vs. Los Leones.
Translated by Escambray