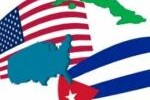 The first National Meeting of Cuban Residents in the United States will take place on Saturday in this capital, in order to deepen the relationship between migration and Cuban society.The event will include members of the Cuban exile organizations that form in Miami the Coalition Alianza Martiana, Antonio Maceo Brigade, José Marti Association and Association of Workers of the Cuban Community.
Members of the Bolivarian Circle of Miami and the Association of Christian Women in Defense of the Family will also attend the event.
The forum, sponsored by the Cuba Interests Section in Washington, is part of the evolution of the linkages between society and the Cuban emigration, especially U.S. resident, said political analyst Andres Gomez.
He recalled that other important meetings occurred before, including Dialogue in November and December 1978.
There were three other meetings between Cuban immigrants in dozens of countries and the Cuban Government and institutions under the name The Nation and Emigration, which were held in Havana in 1994, 1995 and 2004. (Taken from PL)