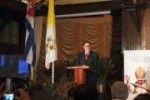 Cuban Foreign Minister Bruno Rodriguez Parrilla during the inauguration of the International Press Center, on occasion of the visit of the Holy Father to the island.
Cuba will receive and listen affectionately and respectfully to Pope Benedict XVI, affirmed on Friday in this capital the Foreign Minister Bruno Rodriguez about the visit on Monday of the Pope.
Speaking to reporters at the inauguration of the press centers of Havana and Santiago de Cuba to cover the Pope's agenda in the island, the official confirmed that his country is open to the exchange of ideas.
Rodriguez also noted the common grounds of the Cuban government and the Holy See, including the defense of peace and the struggle for the survival of the human species.
Benedict XVI will visit the island from March 26 to 28, stay that will include masses in the eastern province of Santiago de Cuba and in Havana, as well as meetings with government and religious authorities. (Taken from PL)