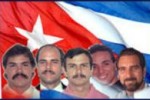 A special declaration for the release of the Cuban antiterrorists who remain unjustly imprisoned in the United States was approved during the 11th Summit of the Bolivarian Alliance for the Peoples of the Americas (ALBA) that took place over the weekend in Caracas, Venezuela.
Gerardo Hernandez, Antonio Guerrero, Fernando Gonzalez, Ramon Labañino, and Rene Gonzalez "internationally known as the Cuban Five" were arrested in 1998 and given harsh and unjust sentences for monitoring right-wing groups in South Florida that were planning and carrying out terrorist actions against Cuba. Hernandez, Guerrero, Labañino and Fernando Gonzalez remain unjustly imprisoned while Rene Gonzalez was recently released, but he was forced to stay in U.S. territory for three years on probation.
The text approved by the leaders of the ALBA member nations demands the immediate release of those who remain in prison and that Washington allows Rene Gonzalez to return to Cuba.
The declaration condemns the difficult and cruel conditions of their imprisonment and denounces that their convictions came after politically motivated serious legal irregularities.
Taken from AIN